Laptop Bag Guideline
What (laptop) bag can you recommend?
Hi, I am Christina, the co-founder and creative mind behind the bags. As there have been recently so many questions about which bag I would recommend, I listed what I find important for a laptop bag and give you some background information on our different models.
The design is timeless and elegant.
All bags can be attached to the suitcase.
Two so often asked questions
Does it fit my laptop? Can I carry it as a backpack?
Besides those features above, it was important to us that the laptop fits. Additionally, some of the bags can be carried as a backpack.
| | | |
| --- | --- | --- |
| CENTRAL | 14" | |
| SEEFELD | 14" | |
| LETTEN | 16" | |
| SELNAU | 16" | |
| VIADUKT | 11" | x |
| VIADUKT DAY | 13" | x |
| VIADUKT WORK | 15" | x |
CENTRAL (14")
The CENTRAL was our very first bag. The name is inspired by the metro station close to the Zürich HB as there are a lot of busy people running around. It is my personal non-compromise bag. All my friends are a little more casual than me, but personally, nothing gives me more confidence than a pencil skirt and heels. So the CENTRAL with its very elegant, almost strict features is the perfect business bag. What I especially like is that it comes with the detachable clutch. In the meantime, we've launched an updated version CENTRAL 23 with slightly improved features.
The CENTRAL23 is an upgraded version of our bestselling bag CENTRAL. The minimalistic, timeless design meets functionalities like a 14" laptop compartment, attachment to the suitcase and a removable clutch - making it the perfect business bag.
SEEFELD (14")
Our SEEFELD bag is my personal favorite bag as it is the epitome of timeless elegance, inspired by Zurich's Seefeld area.
It provides space for a 14" laptop and other essentials while maintaining a lightweight and comfortable feel. Multiple interior pockets keep my belongings organized while blending style and function.
I love that the top-handle design can be transformed into a cross-body bag using a separate strap, providing even more options to best suit my style and make it my forever favourite companion.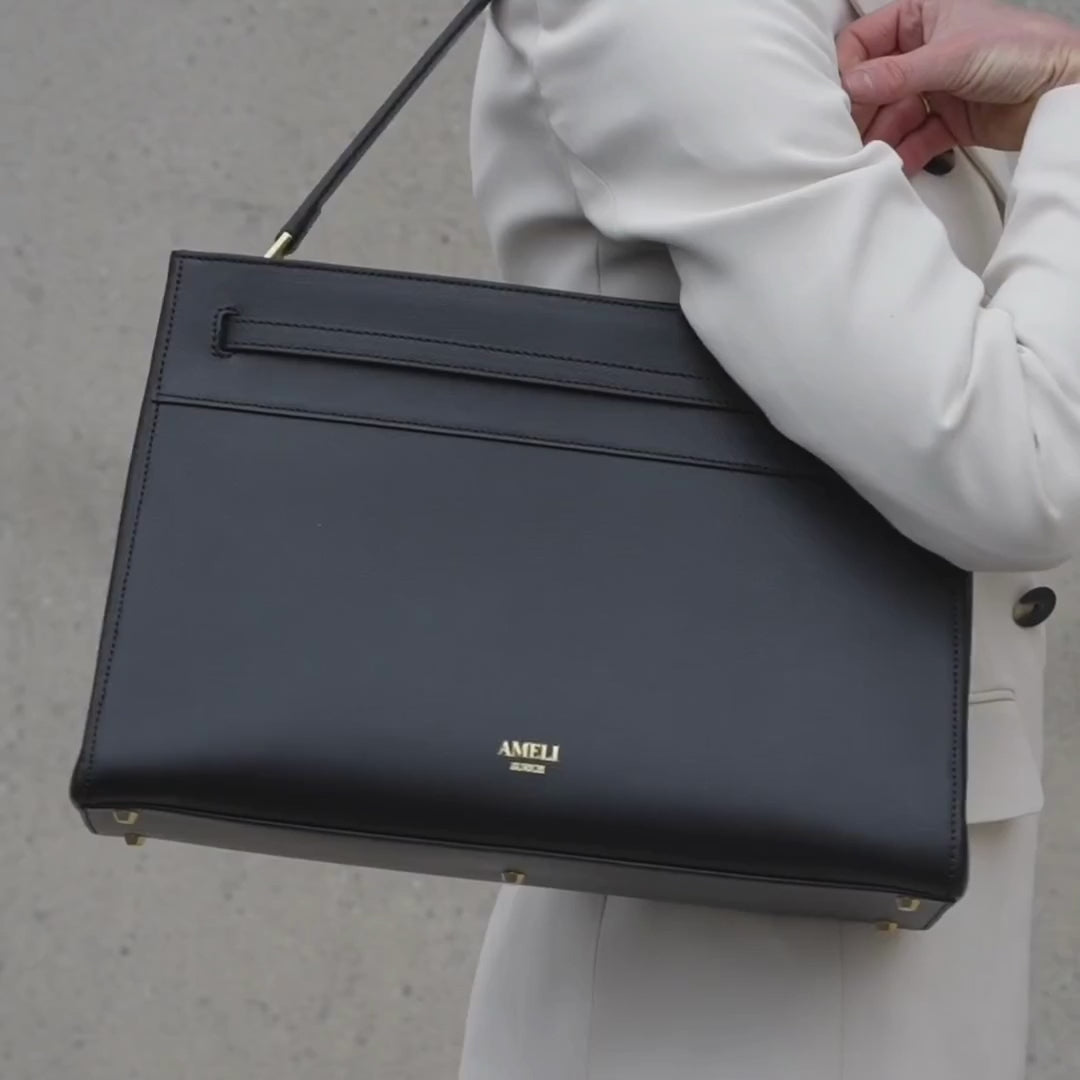 Our SEEFELD bag is the epitome of timeless elegance, inspired by Zurich's Seefeld area. It provides space for your 14" laptop and other essentials while maintaining a lightweight and comfortable feel.
LETTEN (16")
We created the LETTEN because so many lawyers visited us in our showroom and mentioned the importance of a bag to fit a big DIN A4 folder. To be honest, it was love at second sight. It took so many rounds to finish this bag, but currently, it is my most worn bag. It just fits everything and is super convenient because of the adjustable handle length. Plus, it can be worn in both a business or really casual context.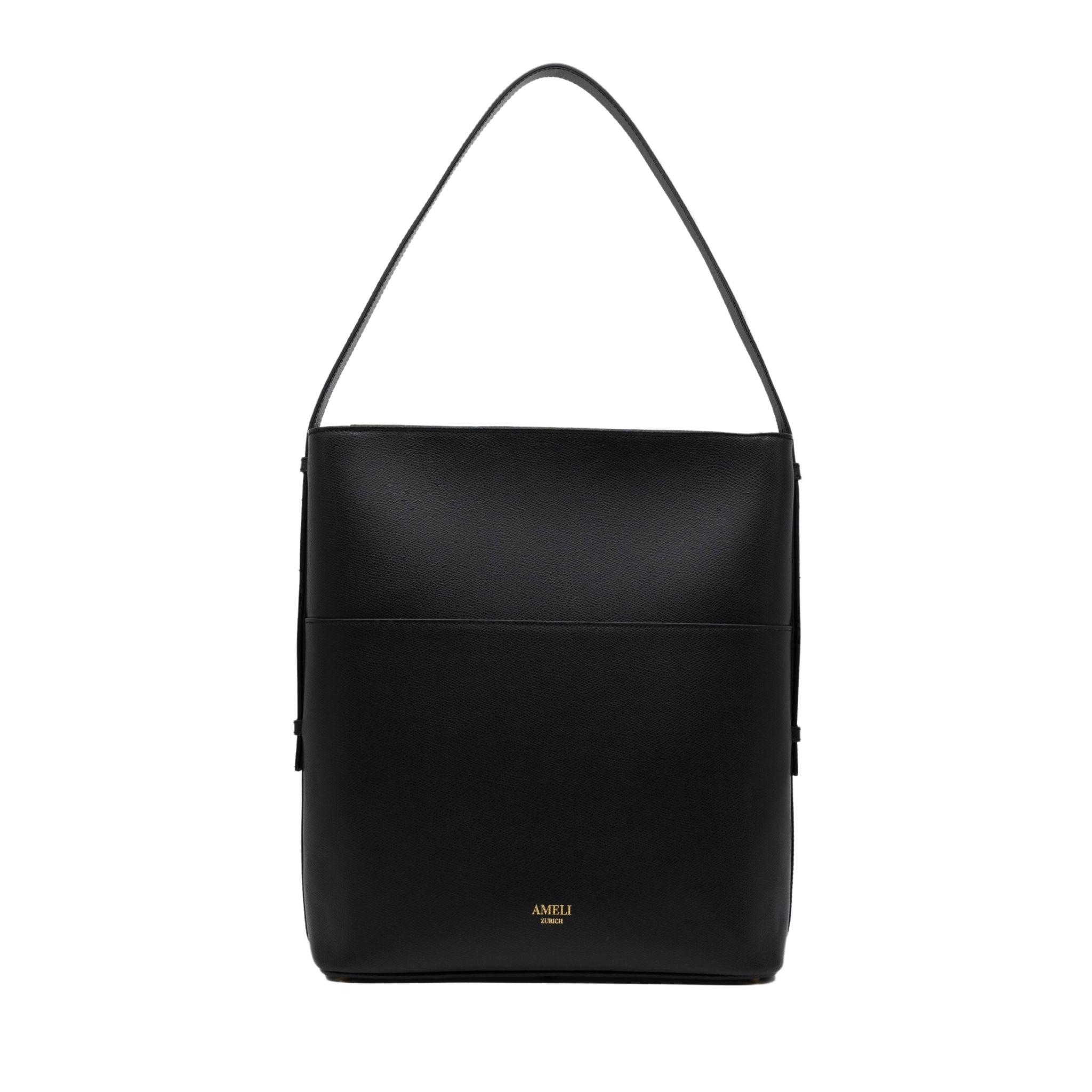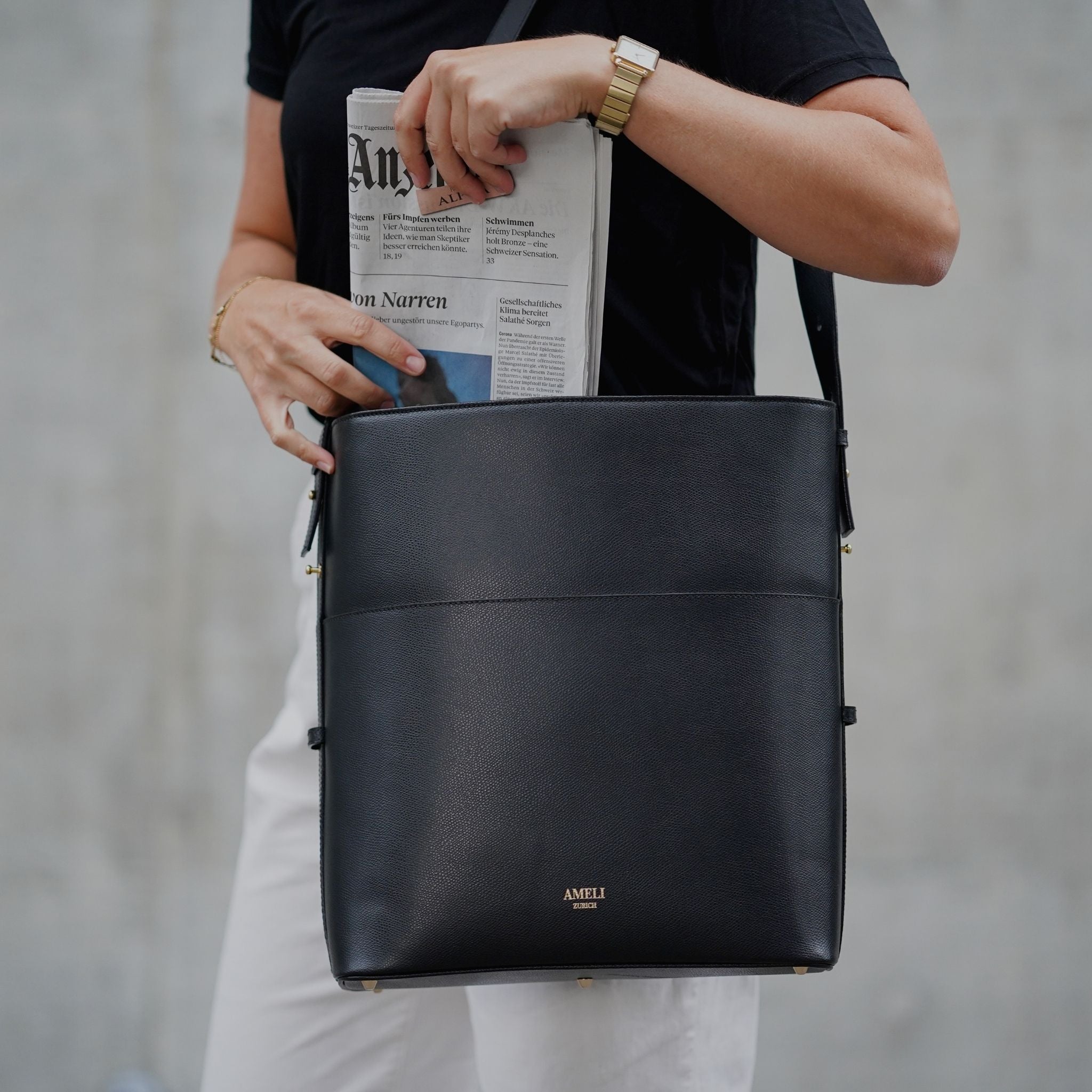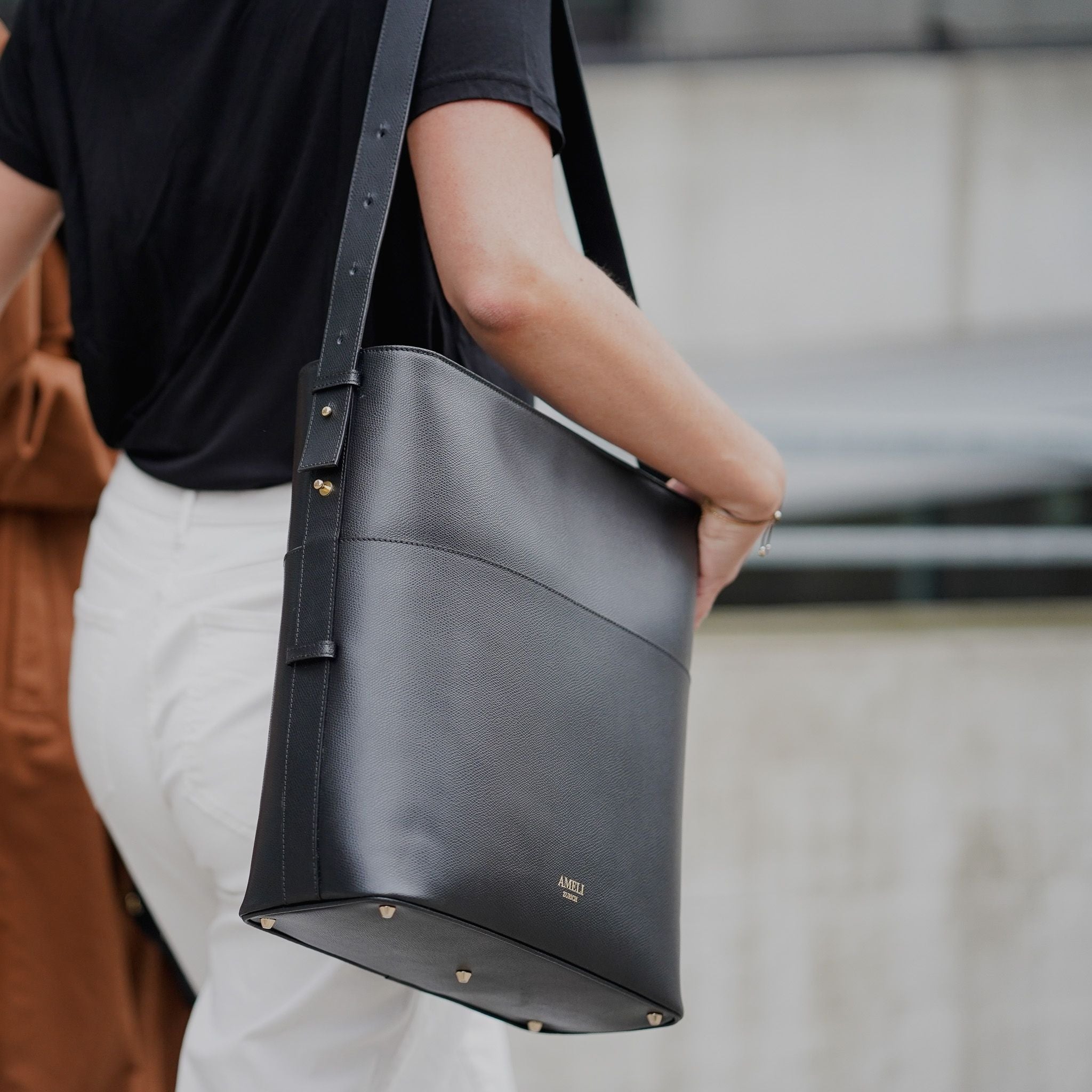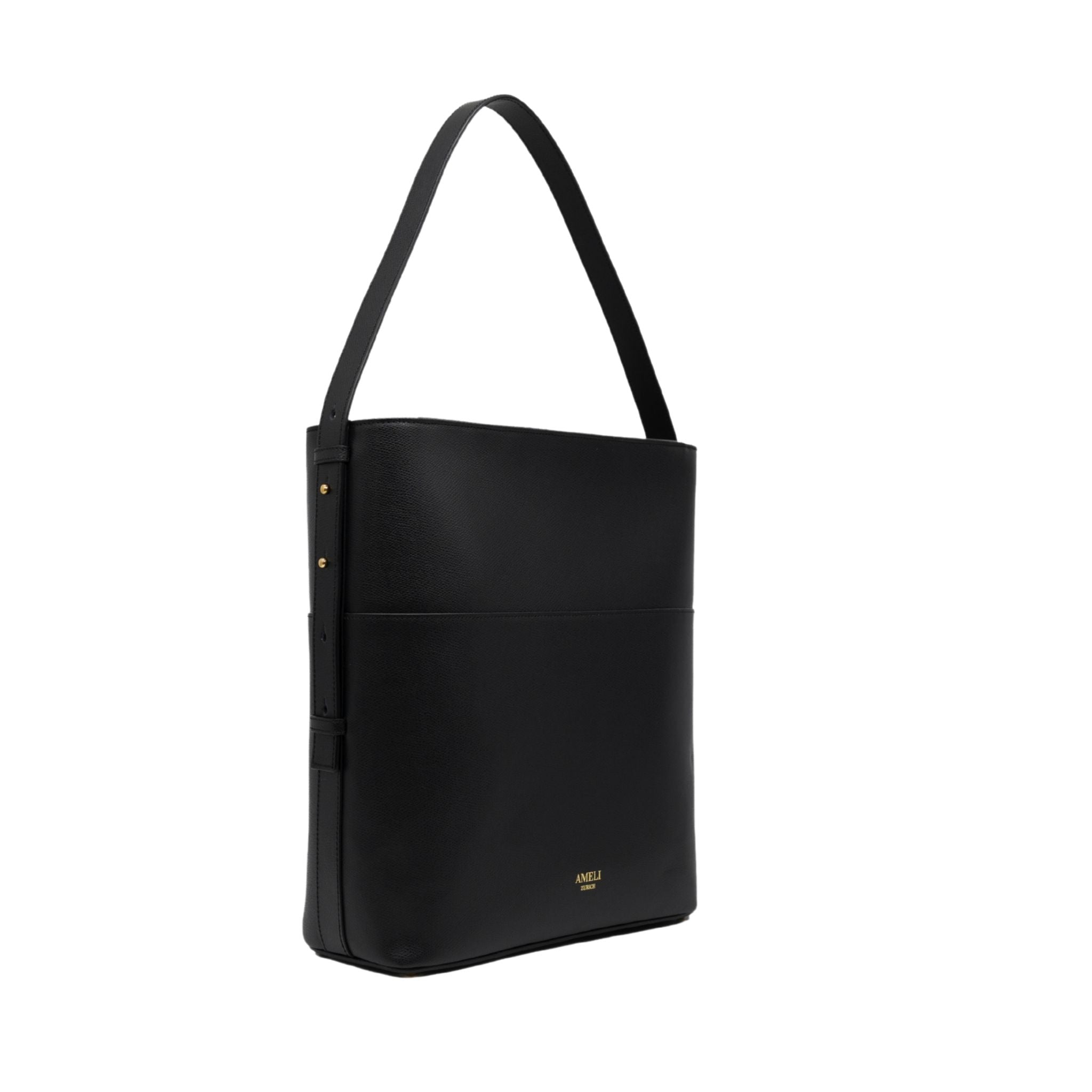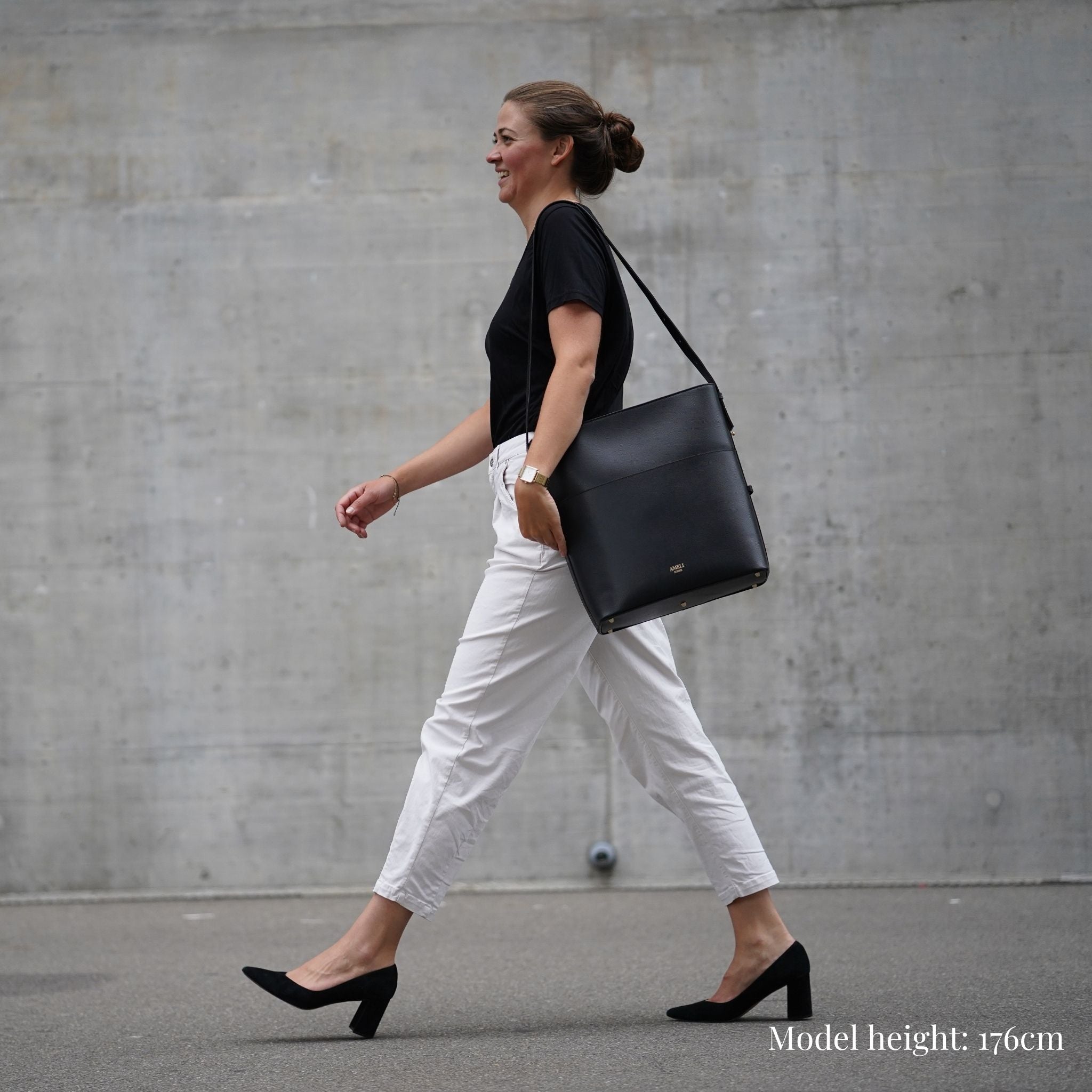 LETTEN is a spacious bag designed to hold up to 16" and large A4 paper folders. It offers comfort, elegance, and plenty of room inside. The adjustable shoulder strap accommodates various body heights while maintaining a clean and minimalistic silhouette.

SELNAU (16")
Let's be honest: SELNAU is a huge bag. But if I am on a business trip and I can't close the CENTRAL because I have simply too much stuff with me, what is it worth?
SELNAU is not a cute, one day at the office bag. It is a bag that actually fits your 16" laptop (which is really tough to find on the market as those laptops are quite big) and a lot more: DIN A4 folder, water bottle, snacks, make-up bag, ...
What I really like is that you can also attach a clutch to the bag, that the handle length is adjustable and that the laptop case can be taken out.
The most spacious bag in our collection is made to fit laptops up to 16" or a large DIN A4 folder. The bag in its classic, structured shape is full of functional details to accompany you best throughout your day and offers you full flexibility no matter where your day leads you to.
VIADUKT series
We started with our VIADUKT as a weekend bag, mainly because I wanted my mum to not buy the 5th laptop bag even though she doesn't even own a laptop.
The design makes this bag so easily recognizable - being almost as classy as a Celine or Hèrmes bag. Thankfully, also our community fell in love with the design and requested different sizes. As a result, we have the VIADUKT DAY, which is the middle version, perfect for a day at the office, and the VIADUKT WORK, that has space for more than your most precious essentials. All bags are designed to carry them multiple ways.
We wouldn't be here without you!
So many details, colors, features of the bags have been implemented because of your feedback, your ideas, your input. I cannot thank you enough and highly encourage you to write us if we missed one important feature for you to make it the perfect bag.