Our Transparent Pricing explained
At AMELI Zurich, we believe in complete transparency with our customers. We want you to understand every aspect of what you're paying for, ensuring that you appreciate the value and craftsmanship behind each of our products.
The problems of insufficient pricing transparency in the fashion industry
The fashion industry faces the issue of opaque pricing and lack of transparency in supply chains, leaving consumers unaware of how much of their spending directly benefits those involved in the production process. This lack of clarity leads to assumptions that higher prices are in line with superior quality or more ethical production. The absence of transparent pricing makes it hard to hold brands accountable for their practices, allowing negative aspects of the industry to continue.
When asked, "What kind of brand do we want to be?" our response is unequivocal: "A better one." We firmly believe that transparency is not just important; it's crucial. Our commitment is to play an active role in reshaping the fashion industry by prioritizing transparency.
Direct-to-Consumer (D2C) vs. Traditional Retail
Our direct-to-consumer model sets us apart from traditional retail, where significant markups are common.
By directly reaching our customers, we bypass the need for middlemen, allowing us to offer our luxury products at more accessible prices. This direct approach not only leads to substantial cost savings but also gives us full control over our pricing.
As a result, we can ensure that our prices accurately mirror the true costs of production and operation. We are dedicated to maintaining fair pricing, truly reflecting the genuine value and craftsmanship.
Our cost components
The final retail price consists of the Cost of Goods Sold (COGS) and operating costs.
COGS
Production Cost: This includes the cost of high-quality materials and the costs to craft the products. We source our materials in Italy and produce under fair working conditions in northern Italy.
Logistics: This includes transporting our products from our Italian manufacturer to our warehouses and to you.
Payment Fees: These are the fees associated with payment processing.
Quality production comes at a cost, and that's why our Cost of Goods Sold (COGS) often surpasses the final prices of fast fashion brands.
OPERATING COST
Value-Added Tax (VAT): This is the government-mandated tax.
Company Cost: This cost covers essential expenses like salaries, operations, design, and marketing, and is essential for upholding our quality standards and innovation.
Exemplary cost break-down
Cost components of our SEEFELD

Production cost: 202.46$
Logistics: 89.56$
Payment fees: 61.44$

Our price vs. traditional retail
AMELI price: 795$
Estimated retail price: 1665$
Cost components of our VIADUKT

Production cost: 145.55$
Logistics: 65.53$
Payment fees: 45.56$

Our price vs. traditional retail
AMELI price: 545$
Estimated retail price: 1265$

Cost components of our TECHNOPARK

Production cost: 43.77$
Logistics: 54.09$
Payment fees: 15.88$

Our price vs. traditional retail
AMELI price: 190$
Estimated retail price: 365$

Why our approach matters
Like other pioneering brands in the industry, we believe that luxury and transparency should go hand in hand. By breaking down our costs, we aim to offer you insight into what you're investing in
Ethical sourcing
We ensure that our materials are sourced responsibly, prioritizing quality and ethical practices.
Craftsmanship
Our products are made with meticulous attention to detail, ensuring that each item meets our high standards of quality.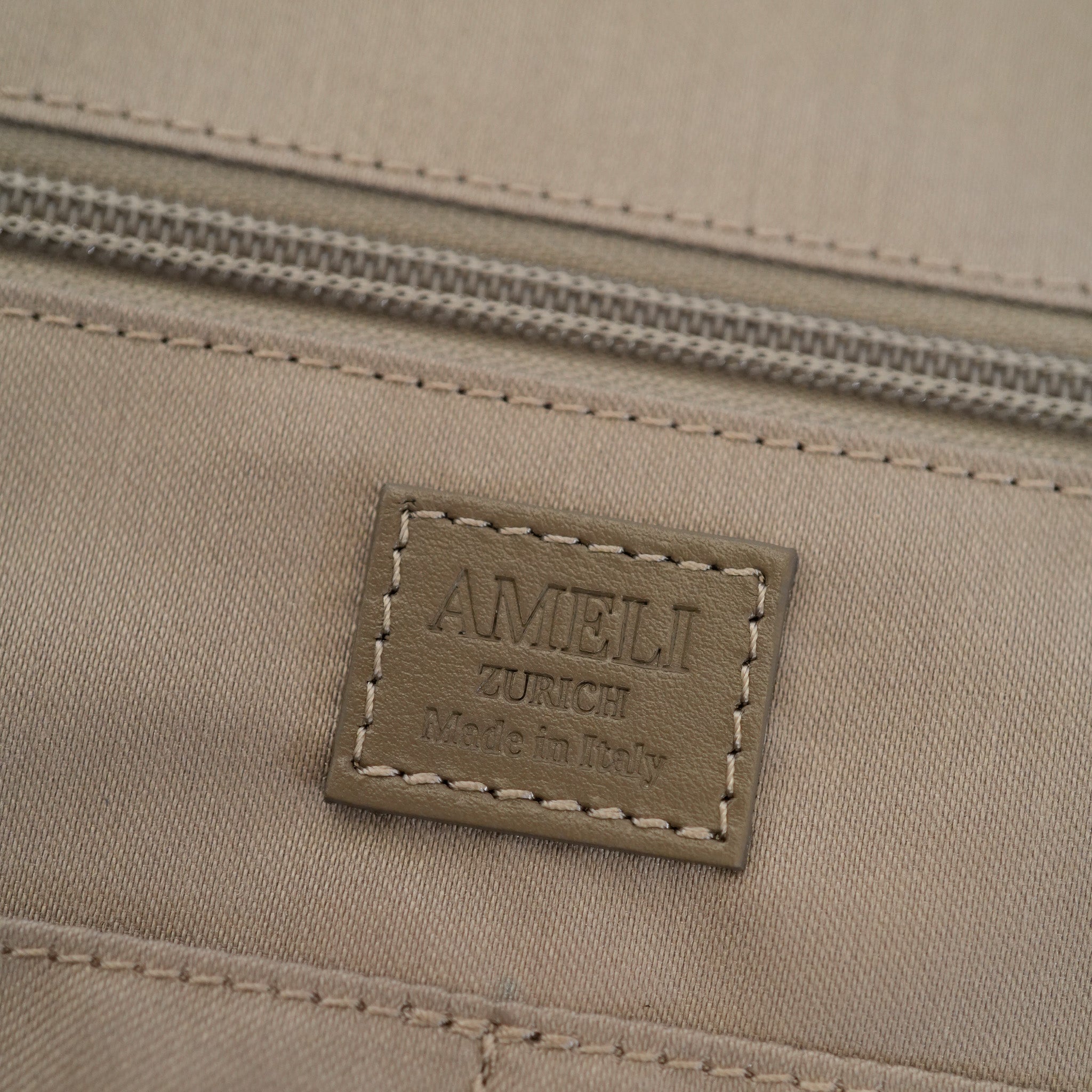 D2C Model
By avoiding traditional retail markups, we bring you closer to the heart of our brand, offering luxury at more accessible prices.
Your role in our journey
By choosing AMELI Zurich, you're not just purchasing a luxury item; you're supporting a model that values transparency, quality, and ethical practices. We thank you for being a part of this journey towards a more sustainable and honest fashion industry.
Some last personal thoughts on this topic by our founder Christina...